Please accept YouTube cookies to play this video. By accepting you will be accessing content from YouTube, a service provided by an external third party.
If you accept this notice, your choice will be saved and the page will refresh.
MaeCile Speaks from Experience:
No doubt about it – Orphan Iron wouldn't be here without Leire – and a pandemic that kept her from leaving. 
"Hi!  This is Leire from the beautiful city of Bilbao in Spain." Nice opening to my and Leire's first-ever communication.  Little did I know what life would hold for the two of us once she determined that HorseWorks was the place to fulfill her dreams.  What set our teamwork apart was that our beautiful black mare, Obsidian, passed away from cancer while Leire was here.  Thanks to our great veterinarians and Leire's TLC, Iron survived being born by an emergency c-section.
Part I of Iron's story is "Keeping Iron alive"
Attentive, observant, caring, diligent, organized, persistent, patient, creative – these are only a few ways to describe how Leire kept Iron alive and nurtured him into the strong, healthy colt he is now at nearly two months old.  Leire contributed two nanny goats to nourish him, learned to milk them, kept to a feeding schedule even when it meant staying up till midnight or getting up at 2 a.m.  More than once – when we couldn't get him to take a bottle, when he wouldn't nurse the goats, when we were flat out exhausted and hadn't had time to work with one of the older colts for weeks (Iron's arrival trashed that plan!) – we looked at each other and one of us said, "This is why I didn't have kids." 
When Iron wouldn't take the lamb nipple on the bottle, Leire used a 2cc syringe to put colostrum in his mouth.  As the fragile colt wandered around the room sucking on everything except the bottle we were trying to give him, we decided to pick a place he liked to look for milk, like the orange door and when he made the sucking noise there (that was Leire's idea), she squirted 2 cc's of colostrum in his mouth.  And she did it for hours.
Iron soon went to the door to nurse whenever he was hungry, which was about every 2 hours (ugh…).  We got a tip that a human baby bottle nipple would be more attractive to him and by gosh, it was!  He took right to it, but not before the colostrum window closed, so off we went to the vet for an IgG test and an IV to get the antibodies that he needed into his system.  All through this, his prognosis went from, "He probably won't survive" to "He has a 50/50 chance."  Iron went from quite awkward and (frankly) pathetic looking to down right cute.
It takes a team to raise an orphan and Leire was the team leader.  Iron aroused compassion in all of us.  Hubby Jim felt deeply for the little orphan with no mother to protect him, so as Iron grew and moved from his "stall" in the back room of the house, to a coral in the barn that he called home, if the brood mares in the barn so much as laid their ears back at him over his corral fence, Jim was there scowling and growling at them protectively. 
But let's have Leire tell you in her own words what it's like to be stuck on a working ranch longer than planned!  Email ride@horseworkswyoming.com to subscribe to E-news and read Leire's "Speaking from Experience".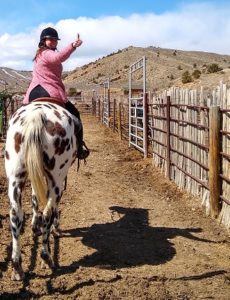 Speaking from Exerience
Living at a Ranch, My Lifelong Dream (Part 1) by Leire González
Animals, in general, have been my passion since I was a little girl; but I have always felt a special devotion for horses and dogs. I started riding horses when I was six years old.  They were a real way of relaxing and enjoying nature and animals. And because of this passion, and the fact that I have grown up watching Western movies, I have spent my whole life dreaming about living on an American ranch.
I guess everyone has their own dreams 😊
 
But this is not only about riding horses; that is simple and can be done everywhere. This is something much more deep. It is about learning a culture, learning a way of living, learning the respect and admiration for an animal that can be your best friend, the best living creature you can rely on.
 
But first, hi everyone! I am Leire, I am from Bilbao, the most beautiful city all over Spain. If you do not know it, I invite you to visit it.
 
After finishing my studies at the university, I have spent the last six years of my life working as an Advertiser and Marketing technician. I love my work. But during the last two years I have been going through bad experiences… I realized the only thing I needed was to have a rest and think calmly about my future, what I do really want to do. And at that point, one night, my lifelong dream came to my head again…
 
I started looking on the internet for different alternatives to make it possible and real. I did see a lot of dude ranches in many different states, but they were not what I wanted… And one day I just found it: HorseWorks Wyoming. I saw the website and it really won me over. So, I sent an email explaining my situation and the goals and expectations I would have about living on a ranch. The answer was just what I wanted to hear: a real experience working at a ranch, not just three weeks of vacations. Working with cows, riding horses, learning Western dressage, training foals, taking care of other animals… Who would not like this? Come back to the origins…
 
Immediately I started organizing everything for my journey to Wyoming. And a few weeks later, I was taking the plane to the US. Almost 24 hours of flights, but my fantasy and excitement were much too high to feel any tiredness.
 
The three first weeks were so good: the first contact with this amazing life. But I did not know that what was about to come it was going to be even better.
 
I met three amazing American girls to share this experience with: Sophie, Eleanor and Abigail. And MaeCile and Jim were just the perfect hosts. Funny, dedicated and passionate couple that taught us how to be (or at least try) the perfect cowboy. We all had a blast learning from MaeCile. We rode horses, went for endless rides, worked with cows, trained foals, watched videos of trainers so we could get much more information from other professionals, went to town…
 
But Covid-19 came to our lives and got everything upside down. The girls went to their houses, but I would not be able to go back home; my flights were cancelled four times… So, I was at the ranch as the one and only guest. But for me, indeed, it was a great gift. I was so lucky for being able to spend more time with MaeCile and Jim. I was going for three weeks and I ended up living there for almost three months.
 
The very first lesson I learnt at the ranch is that life in here is so unpredictable. You must bear in mind only one fact: whatever thing you plan can be changed depending on animals' necessities or the weather. So, the best thing is, instead of making plans, adding stuff to the to do list and keep working on them.
 
Over the weeks I was completely involved in ranch chores and life, it was easier for me to be more independent; I tried to help MaeCile and Jim with all kind of the duties that must be done. But, honestly, my favorite part was spending time with animals and working with them. So, you can imagine my happiness with the arrival of our orphan baby foal, Iron!  The first days were so difficult trying to do our best for him, but when he started spending more time in the yard and acting like a horse, we did have much more fun with him.
 
During my time in the ranch we welcomed three more foals: Dip, Image's baby; Troy, Helena's baby and Dot, Rose's baby! Iron and Dip get along really fast – and also travelled together on the trailer to the vet. Image was so protective with her foal at the beginning, but when she started feeling more confident she let Dip to be with Iron and us more time. It is really cute watching baby foals knowing each other.
 
But playing with baby horses is not the only thing I did. I was able to take care of the other animals: bulls and cows, Stanley the stud and the rest of the horses. Gypsy the Dog and the cats need attention too. It was great to observe their behaviors, how they react to people if you are going to feed them, or just want to watch them. And it was so exciting when they start knowing you and feel more comfortable with you each day.
 
Besides this, I have also been able to learn and enjoy the three most typical activities at a ranch: trailing cows with horses, training and riding horses.
 
We went several times to cow camp to look after the cows and bring them back to the ranch for spring: but they preferred straying away from the cow camp and finding them was much more difficult than expected. I have never in my life moved cattle and although it seems to be easy, as it is shown in films, you have to be really aware of their movements and intensions… and when they just walk to the ranch and you can "relax" riding and enjoying the moment, it is great.
 
From MaeCile I have learned, above all, how treat horses. How can we learn from their ears and body movements and try to anticipate so we can make everything easier for them. And here comes the other two activities: train and ride them. I have never in my life trained horses, and it has been a great experience for me. You must know the patterns well and repeat them so the horse can also learn them. Is great to take a young horse and start with the basic movements, watch his improvements, realize where he is not that good so you can lead him better.  Although it can be disappointed at some moments, you have to bear in mind that horses always want to do what you are asking for, so if they react like you were not there, be careful of your body language and movements! They are smart animals; if you know how to do it, your horse will be even smarter, easier to deal with and friendlier. It will not be afraid of you and will also have respect for you. But experience is all… Thankfully, I was beside MaeCile to absorb all her knowledge. 😊
 
Unfortunately my flights were available again so I could go back home. I would have loved these days to last forever so I could keep enjoying and learning this fantastic life.
Be careful with your dreams, they might come true!