By Tess Wilson, UK.
2019 turned out to be a water shed year for this intrepid Cowgirl, not only was it the year I returned to HorseWorks for part two of an adventure I started in 2018 – as it turned out my timing was to be more important than I could have ever imagined.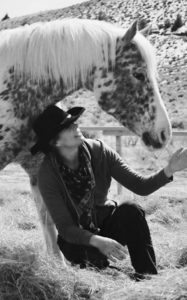 My professional life, the one that I felt for the longest of times, defined exactly who I was, the one I held in the highest esteem and believed made me invincible; fell apart. I arrived at HorseWorks in March 2019 broken, sad and vulnerable. The story behind all this is long and painful – I won't recount it in full; those who know and care about me already know, but like many before me and sadly many who will follow I was deeply depressed in a dark, lonely, horrible place as a result of the extreme ugliness of a few. I didn't recognise the woman I had become and it scared me so much that I, the strong, single minded, independent, intelligent, successful woman I believed I was could sink into such an horrific deep sadness – and so began my second adventure at the incredible HorseWorks Wyoming.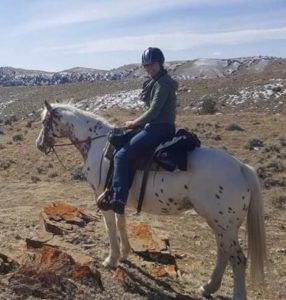 The hug I received from MaeCile and Jim told me I was home. Their warmth, their quiet understanding of the frailty of us human beings, they knew I was suffering without even knowing the details. My first swing of a leg and across the back of a beautiful little Appaloosa mare Tina, and my first ride across the achingly breathtaking Wyoming country with her, I started to heal…slowly.
I sat on many a cold, clear evening wrapped in my sleeping bag on the porch of my cosy cabin just staring up at the huge Wyoming Sky, the stars in their zillions stared right back and I continued to heal.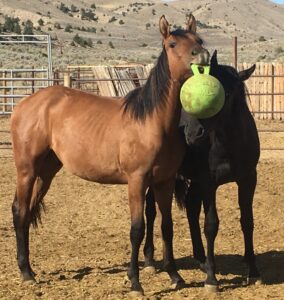 I stared into the eyes and reunited myself with very special little horse, Wyoming Spring. His deep, huge, kind brown eyes just stared right back at me…he nibbled at my hair, blew his soft breath into my face nd hunted my pockets for "cake". I healed a little more.
The laughter of friends old and new. The challenges of working with amazing young horses, the learning that turned me away from my sadness and slowly I felt joy at the smallest success. I was healing.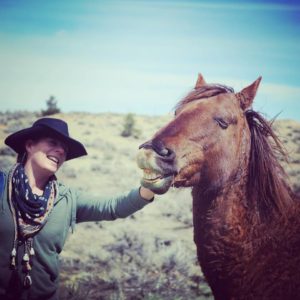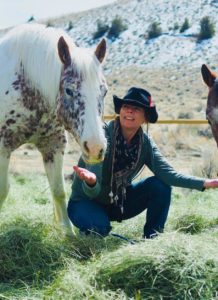 This is HorseWorks-magic at work. It filled my soul with healing. I told my story and trusted those around me with some of my pain. I continued to heal.
MaeCile and Jim allowed me my pain and gently promoted my healing.
I returned to the UK still vulnerable and with challenges ahead but I knew who I was again.
Over the past year I have re-invented myself professionally. I found the courage to step back out in to the world. I believe I am slowly becoming the very best version of myself. I'm building a small but perfectly formed Consultancy business and have had the good fortune to travel far and wide using the skills and knowledge I gained and achieved over many years in my previous profession. I have been lucky enough to find the strength to put myself back together. This courage comes from, in no small way, the HorseWorks-magic. I will be back soon MaeCile and Jim, for you are my dearest friends, and you helped me save myself when I was in the darkest and loneliest of places.