Nate and MaeCile Brown, the founders of HorseWorks Wyoming, match horses with appropriate riders and work with people to develop their horse interests in a safe environment.
Nate (1921-2016) was a rancher, horseman, poet, guide, and co-author of a children's book entitled Roll On, Little Dogies (Gibbs Smith, Publisher).  Born in Wyoming in 1921, Nate ranched and cowboyed in Wyoming all his life, trained horses for himself and everyone in the country, and had a passion for rounding up and training wild horses from his youth throughout his life prior to the formation of the BLM.  In addition to running his horse and cattle ranch, Nate served as Horse Program Coordinator of National Girl Scout Center West for eleven years, encouraging thousands of Girl Scouts in their horsemanship. To those who knew him, Nate was a living legend whose multifaceted accomplishments were honored in 2017 when he was posthumously inducted into the Wyoming Cowboy Hall of Fame.
Read Nate's story in his Wyoming Cowboy Hall of Fame Nomination
MaeCile is a native of Lexington, Kentucky, the horse capital of the world. After living abroad for ten years, she came to Wyoming in 1994 to pursue her true loves: Nate and horses.
Nate's spirit permeates HorseWorks.  The understanding of horses that Nate passed on to MaeCile is the core of the cowboy legacy that HorseWorks continues to pass on others.   We invite you to share in this unique knowledge of horsemanship and Western tradition while participating in HorseWorks' programs.
Articles and Press Releases
Ride DISCOUNT! If you are a journalist or blogger, you may get a discount!
Ride with us, photograph, film and write about your experience for blogs, magazines, newspapers, horse clubs or other publications!
Previous journalists include Jerry Sinkovec for the Trail Blazer, Kent and Charlene Chrone for Trail Rider, Terry Selucky for Bust Magazine and Sian Lovatt for Sian Lovatt Dressage and Journalism.
Just submit a prospectus, details of the publications for which you will write and sample articles. We want to have you on board!
Nate's Book: Roll On Little Dogies
Roll On, Little Dogies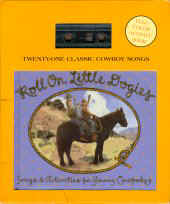 Songs & Activities for Young Cowpokers
By Meghan Merker, Nate Brown
Gibbs Smith Publisher
February 1996
OUT OF PRINT
A collectionof songs, stories, information, and activities related to cowboy life
Midwest Book Review
Songs and activities for young enthusiasts of the cowboy invite kids to sing along with a full-length cassette tape of over twenty cowboy classics performed by The Bunkhouse Orchestra. An accompanying book packs printed music and lyrics into a colorful activity guide.