Dear MaeCile, Nate, Laura, Paul and all the Horseworks team.
My time at Horseworks Wyoming was absolutely, unequivocally the best, most amazing horse-related experience, of my entire life.
I have grown up on American horse movies. I used to watch Flicka trilogy every afternoon for years. I'm sure I have seen every American horse movie ever made a billion times. My dream has been to ride in Wyoming for as long as I can remember. Upon marrying the most wonderful man, who said he wanted to make my dreams come true J, we planned a trip to US with a stop in Wyoming.
Based in Australia, planning a big USA trip, in and around different work commitments on both sides on the continent and trying to fit in a lifelong dream of riding in Wyoming is quite a task.
As our work commitments, one in Texas, one in LA being both in the south, my family decided that we would do a road trip between them and we would head North enough to enter the lower section of Wyoming.
Being a little early in the season, Old Man Winter was still lingering and many of the sites were only opening a week or two after my planned travel dates. I was devastated.
I then started contacting Dude Ranches all over the state, time and again, no, no, no. All these ranches, so many of them, and none could accommodate us. And worse, they were all so 'professionally manned' that they would offer all these wonderful services and suggest I come a week or two later (which of course we couldn't).
What really got me was they hadn't really listened to my situation and objectives. They have these extraordinary outfits – the fancy rooms, services and additional activities, but it seems they'd forgotten their customer service ears. They were worked into a box with their offerings.
Then I got a reply from HorseWorks.
The first line from the email;
Thank you for your email!  It is possible that we can help make your life-long dream to ride in Wyoming come true!
Woowweeeee!!! Who is this Horseworks and can this really be happening, after all these no's?
This was the beginning of a very human and very real exchange. Which was certainly the platform for the whole experience.
I had very specific dates I could travel, and being so early in the season, MaeCile included the wrangler in the email communications. They listened to what I wanted from my experience (as much time as possible working with the horses and being in the saddle) and together they worked out an itinerary that was incredible and sent me over the moon with joy.
Coming from overseas, I had questions around helmet hire, traveling with a toddler to and from the airport and all those little logistical details you have to sort when you have no idea of how it is done in another country.
They answered everything generously and I never felt like I was being a pain with all the emails we sent. I felt like I was going to visit a long lost family member, one you didn't know very well, but who took the time to make you feel comfortable.
Not a being a "dude ranch" is what sets this place apart! It's not lavish, there is no one there to 'serve you' (although there was always someone in the kitchen cooking up something delicious). You are welcomed into Nate and MaeCile's home. Their actual home. And you are expected to chip in. This is what I liked most, as this also carried into the outdoor setting.
There isn't a planned ride at 11 am for 35 minutes with canapes afterward.
There is actually real! This was bliss! Being horse mad all your life, without a horse or access to one is hard!
I go on trail rides and have taken lessons, but it's not real. You're just seated atop a saddled horse, with no time to 'meet' the horse or build a connection. You seem to only learn technical riding skills, but not horsemanship skills which I was craving to learn.
The wranglers present during my stay were Laura and Paul. Wildly different, yet with the most comical banter and respect shown between the two.
Most of my horse experiences in Australia have been facilitated by woman or girls. Certainly, for the best part, they were pleasant, but not really warm or overly eager to engage with you. Again, just like you are in and out for your ride or lesson and let them get on with their work. Sometimes being short-toned or even bitchy.
I somewhat expected this to be the same for Laura prior to meeting her as with most horse women. Even though her emails were warm, you just assume that women facilitators are going to be 'to the point'. Laura, who is an amazingly skilled and experienced horse-woman (which takes some time to find out as she is incredibly humble) was so kind and really helped me improve because she listened to what I wanted to learn.
Paul, was totally awesome. Where Laura brought a varied skillset of English style, country and technical skill, Paul brought an old fashioned Western flair. A sense of 'growing up on the land'. He taught me things like always carry a length of twine in your pocket in case a stirrup breaks (which I believe Nate taught him) and so many other type of skills that are innate if you have grown up in that environment. With my intention of owning a "farm" (Australian ranch) someday in the future, these sorts of skills are critical to know.
We brought the horses in from winter pastures and 'worked them' back in. Where possible, the wranglers enabled me to also ride.
I was given a gorgeous mare named Maggie. She was a stunning horse. Though she certainly wasn't a push-over. She was perfect to ride for my level of experience and didn't do anything unexpected, but her personality challenged me well into learning new things.
Over the days they taught me a huge amount of ground-work skills. I was able to lunge without ropes and really learn to watch, interpret and anticipate the horse.
My husband who doesn't ride and my son along with my mother stayed also. They were kind and offered alternate experiences for my husband. And my mum enjoyed riding Frecka.
The 'family' also very kindly accommodated my 2-year-old son having a ride. Again, most of the places wouldn't because of the risk, whereas here, they kind of assess your experience and work within your limits. So Paul led beautiful Frecka (who is now the name of every horse my son sees) and my husband held in place in the saddle by walking beside. It wasn't a short around the coral walk either, it was a long, over the hills ride. This enabled me to go out for a ride with my son, another earth moving moment for me.
Upon arriving, if you are unfamiliar with the landscape, the land looks dry and barren. Over the days riding through it, I gained such appreciation of just how beautiful it was. I haven't ever seen anything like it. It is stunning. I was fortunate to have flurries of snow, and warm days whilst I was there. And riding to the top of the mountains around the home, and seeing a view of the snow-capped Rockies was just awe-inspiring.
MaeCile was very busy with all of her life running around, but when we crossed paths her warm, welcoming manner was beautiful. As you are in her home, she welcomes you whole-heartedly. Again, this was what made this experience so personal and satisfying.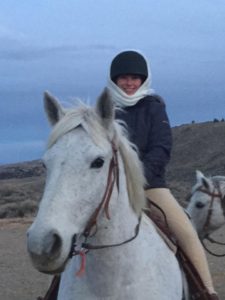 MaeCile, Nate and all, as I began with, my time at Horseworks Wyoming was absolutely, unequivocally the best, most amazing horse-related experience, of my entire life.
My stay with you has been a pivotal moment in my life, a very special and intimate experience and I will remember you all, always.
Thank you for welcoming my family and me into your home and the experience with your horses.
It truly was wonderful.
Most sincerely,
Harmony from Aus
Harmony, Guest Spring 2016