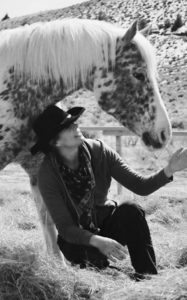 Bio:
I'm 51 and live in the South West of the UK. I've owned and ridden horses most of my life. I have a very high pressured working life and when I discovered HorseWorks I was in need of some serious time out and a new outlook. I found it, and my adventure healed me in many ways. I'm returning next month for a longer stay because I need to go back and be there again.
Once I got home, I found that my time abroad had impacted my life.  I think about HorseWorks every day, I'm in touch with the friends I made there regularly. I'm a better horsewoman, (even after 49 years of riding – yes I'm that old), having learnt new western riding techniques and new methods. And I'm a richer person for having found everything HorseWorks has to offer.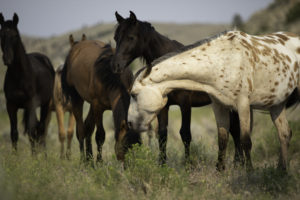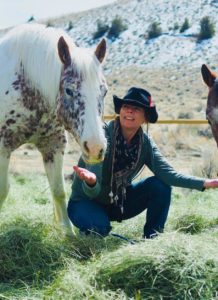 I was inspired to travel abroad because I was in a position to realize my dream of living on a ranch for a couple of weeks.
I chose HorseWorks Wyoming because after reading about a few ranches and opportunities HorseWorks Wyoming seemed to be the only one to completely fulfill everything I was looking for.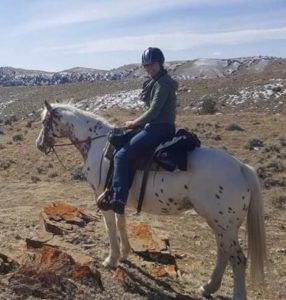 My favorite part about Cody itself is that it is easy to fly into and captivatingly beautiful (just look and read online) but it was HorseWorks Wyoming itself that was my inspiration.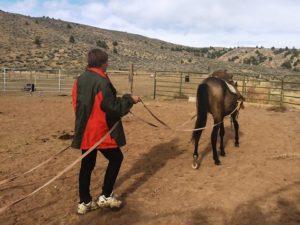 What made my experience abroad extraordinary was HorseWorks Wyoming.  The spirit of the horses running right through everything,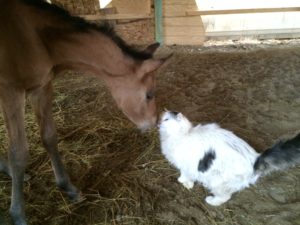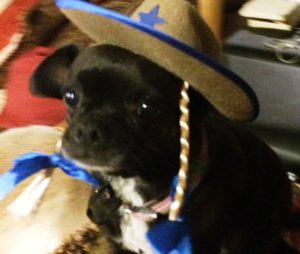 the ethos for learning, the feeling of being part of a family from the moment I arrived.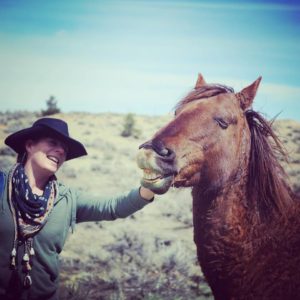 My days were filled with foals, cats, Gypsy-dog, calves and their mothers,  laughter, and riding amazing horses across country so beautiful it brought tears to my eyes.
Having the freedom to experience natural horsemanship and understand by being up close and part of how this incredible ranch operates; making friends, real friends, for life – all this was extraordinary.
I booked my vacation for next year before leaving last year and I cannot wait to get back under Wyoming skies and continue my adventure.
From the moment I arrived, I felt home away from home and one of the family. MaeCile is warm, welcoming, funny, kind to a fault and THE most fabulous chef!  Her wranglers are so knowledgable and clearly love HorseWorks and all that goes with it.
The one thing I wish I had done differently during my time abroad was staying longer!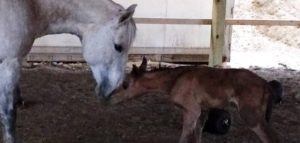 There is no "typical day".  No 2 days are the same.  We rise under beautiful sunny skies one day and snow the next.  Check on the animals, have more breakfast than we can eat…. different delicious home cooking every day… trail rides, groundwork with youngsters, assisting a vet, feeding young horses their grain, learning to ride a barrel pattern, more trail rides, riding through cattle, hitching a monster trailer to a monster truck…. sleeping at night so soundly and peacefully….
During my free time, I enjoyed swimming in hot spring water in Thermopolis, shopping like a real cowgirl in Cody (boots like I've never seen before!) Visting Yellowstone Park and seeing animals (bison, elk) up close. What a road trip that was!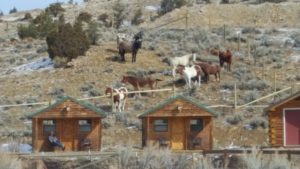 My accommodation was the warmest, cosiest log cabin… open the door to the Wyoming countryside on my doorstep! Perfect.
Every future participant should know to take sunscreen, yes even in springtime. Be prepared to surrender to the experience HorseWorks offers, it's a gift!
Yes, yes, yes, I would recommend HorseWorks for all the reasons I've described above! For peace, laughter, learning about the West, and a TRUE ranch experience.  And you'll learn more about who you are than you anticipated or expected. There is something for absolutely everyone at HorseWorks.
The biggest benefit of traveling abroad is simply the experience the world has to offer in so many ways.