Checking out the long-range weather forecast as I ponder my packing list to join the Gap Year Ranch Holiday spring session at HorseWorks Wyoming USA.  I smile as it is typical Wyoming weather. I ought to expect anything from arctic to nice summer days… So packing will be interesting.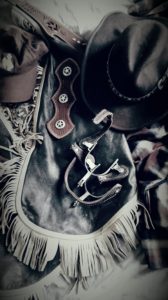 Layers that I can strip off as the day warms up are the secret. Luckily, my long oilskin coat is hanging in the tack trailer so the waterproof outer layer is sorted.
I really can't wait to be united with the herd of horses, all my favourites and all the new arrivals and of course MaeCile and Gypsy dog. I'm looking forward to catching up with my first project horse, Stanley, the spotted QH x Appaloosa stallion, and working on all the horses coming back to work from their winter break. I'm itching to get on my old favourites Cavalier, Tina and Dandy and many others. The great thing about Horseworks is that I can enjoy horses from dawn till dusk and ride many different ones each day. the dream vacation of any horsewoman!
Spring is my favourite time of the year in Wyoming. The horses are fresh, we see new calves and foals born, lots of wildlife, but it's still cold enough for rattlers to stay in their winter dens (although seeing the odd rattlesnake is very much part of the western experience!), the fabulous shops in Cody are running pre-season sales and the hot springs of Thermopolis feel wonderfully soothing after a long day in the saddle.
So back to packing… chapstick, a good one(!), is going on my shopping list. The western sun, be it summer or winter or in between, is strong and easily catches one out. I make a note of bringing my western spurs home from the livery yard. "Cowgirl" isn't quite complete without them, even if I'm pretty mindful of which horses I will have them on, based on dear Nate's advise! I also can't wait to ride out in my chinks again. From time to time I wear them at western events in the UK, but at an English livery yard they are somewhat of a rarity/oddity, but I simply love them.
As I write this I'm getting more and more excited about my upcoming trip. Really cannot wait 🙂
Hope you join me for your Wyoming gap year ranch holiday!