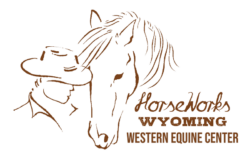 Please click on the above Application link.  Write a few sentences explaining your horsemanship experience and why you are interested in building on that at the Western Equine Center at HorseWorks Wyoming.
You will participate in the shaping of the calendar to meet your academic and personal goals, particularly if your program as part of an independent study in your pre-vet, animal husbandry, or other large animal university program.  The ranch has horses and foals of all ages, from weanlings to yearlings, two-year-olds, four-year-olds, and older horses, including well-broke saddle horses for trail riding.
This is not a "dude ranch experience".  The ranch is an off-grid working ranch, has no TV, and limited WIFI.  However, if you have off-ranch goals, such as visiting Yellowstone National Park, we will work with you to schedule these around the on-ranch activities.
A suggested Packing List is available.  Please confirm that you understand you need to bring your own riding helmet and appropriate attire for horseback riding and that you must have insurance that covers extensive horseback riding.
The fee is $1,200 for one week, $1,800 for two weeks, $2,400 for three weeks, including a $500 deposit to hold your place once you are accepted.  Payment in full is due prior to arrival.
In your statement, please be candid with yourself and with us about your abilities, expectations, and limitations.