Fly into Cody, WY (COD) on Sunday for your Working Ranch Internship at HorseWorks Wyoming!  A local shuttle operator will pick up in Cody, WY, bring you to our working ranch and return you to Cody after your working ranch adventure!  Whether you are traveling from overseas on an ESTA Visa or from within the continent, we recommend making your reservations early to get low fares.   Round out your working ranch experience and make the most of your trip by planning off-ranch activities, renting a car to go to Yellowstone National Park for a day or two, or staying overnight in Cody before or after Internship. There are many Area Attractions, like the Cody Nite Rodeo, the Buffalo Bill Historical Center Museums and the hot springs in Thermopolis.  If you are driving from home or renting a car in Cody, Billings, or another regional airport, download directions to the ranch on this site.
When to Visit: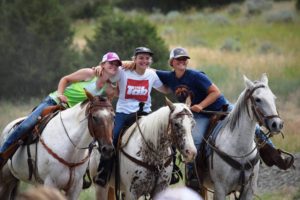 Regardless of when you come, HorseWorks Wyoming is an opportunity of a lifetime. Became a better rider and trainer.  Gain skills for your future career. Expand your work ethic.  Find a new energy.   Put what you learn to the test with your own horses and cattle. Gain confidence in talking to people and teaching people about riding. Gain problem solving skills.  Learn teamwork so you can rely on others.  When you don't know how to do something, you'll figure it out and gain confidence in your own abilities, strengths and toughness.  You can be independent. Learn how to do everything on a ranch, so you don't have to rely on anyone else.  Learn about people from all different backgrounds and cultures.  Learn interpersonal skills that apply in any workplace.
Early season March – May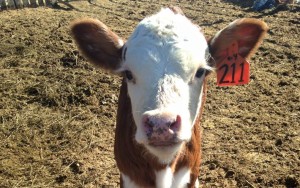 Horses are fresh and well rested after a long winter break. A great time for riders wanting to spend long hours in the saddle riding different horses, do a lot of round pen work with the horses, and really focus on improving horsemanship skills on the ground and in the saddle.  Calves and foals are born during the spring season. Interns have a chance to get to know and care for the brand new arrivals and maybe help to deliver a calf or foal!  This is a great time to work with the yearling and two-year old colts, too!  Weather during the spring sessions is variable, with likely some lovely warm spring days, as well as the odd flurry of snow, so favorite off ranch activities are soaking in the hot springs and visiting the five museums at the Buffalo Bill Historical Center.  The North Entrance to Yellowstone is opened during this time.  The rodeo has not yet started, so  focus on the ranch, but save time and money for shopping at many of the western apparel shops that have sales on and great bargains to be had!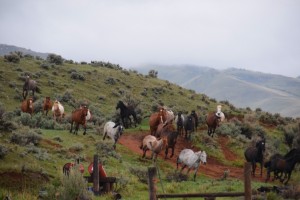 High season June – August
Enjoy everything to do with ranch life!  Wrangle horses, feed cows, calves, foals, go for long and short trail rides, fix fence Wyoming style and, most importantly, immerse yourself in many opportunities to improve your horsemanship both in and out of the arena! Cody night rodeo is in full swing and all the Yellowstone roads are open.  An overnight tepee camping trip to cow camp, sleeping under the Wyoming starry sky, cooking over a campfire and floating the river in the local town of Thermopolis is on top of the activities list for many. This is the time for the full Wyoming experience with all of the off ranch activities available for interns. 
In mid-June Casper, WY hosts the College National Finals Rodeo, a highlight for old and new rodeo fans alike.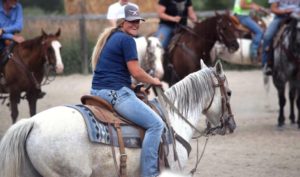 In late June and early July returning interns may borrow ranch horses to attend a clinic with Pat Wyse in Montana to learn more advanced Western riding and training techniques.
Weather is typically hot and dry, with occasional afternoon thunderstorms. To beat the heat, we may ride early in the morning and in the late afternoon and evening, doing non-horse or off-ranch activities during the heat of the day.
September – October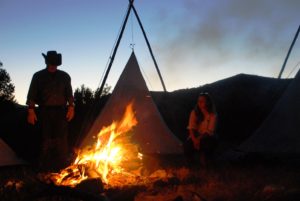 In September days are still long and warm without the more extreme heat of July and August.  In October, you may experiences all four seasons in one day – snow, sunshine, rain, warm sun and cool temps that beg for a warm fire in the hearth!  October is the wranglers' favorite time for beautiful, autumn weather and the occasional snow or colder days quickly give way to perfect autumn weather.  Yellowstone national park is still open and much quieter than during the peak season. This is great time of the year to spot wild life, lodging cheaper and beautiful autumn colors are at their best, especially in the Grand Tetons outside Jackson, WY.
The September Labor Day rodeo and parade in Meeteetse, a town of 300 people, and a real western experience, is a highlight for the interns.   In Billings, MT, the four-day NILE rodeo takes place mid-October.  To fully enjoy this highlight interns may do an overnight trip.  In October, interns may help to prepare the ranch and the animals for the winter. Horses shoes are pulled off, chickens moved to insulated hen house. There is a lot to do to get everything ready before the winter sets in.