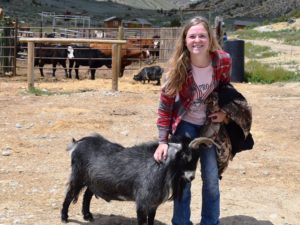 My internship at HorseWorks Wyoming was an opportunity of a lifetime. I not only became a better rider, but also a better farmer and gained skills that I can use in my future career. I thought I had pretty good work ethic before, but when I arrived home from the ranch, I wanted to do so much more around the farm. I was constantly wanting to be on the move, and I had a new energy about me. I wanted to put what I learned there to the test with my own horses and cattle. I gained confidence in talking to people and teaching people about riding. I gained problem solving skills that I have used around our farm. Before, if I didn't know how to do something, I would go get my dad. Now, I figure it out myself. I also gained confidence in my own abilities as far as strength and toughness. I can now work cattle in the chute, holding them for the vet and do other things like that. Seeing MaeCile run that ranch all by herself gave me the goal of being independent. I want to learn how to do everything on a farm, so that one day I won't have to rely on anyone else if there is no one available. Not only did I learn things that can be applied immediately, but also that can be applied in the future. I learned about people from all different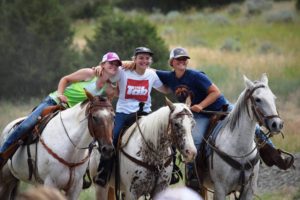 backgrounds and cultures. I learned how to get along with people that are extremely different than I am. I learned so many interpersonal skills that apply in any workplace. HorseWorks Wyoming made me a better, more skilled and confident person. This internship fit me better than any other could have. I got to do what I love while learning the same social skills that you learn in an office environment. I learned about myself, about others, and most importantly, areas I need improvement. HorseWorks Wyoming was the perfect start to my future as an agriculture major.
Ashton Light, Intern 2016 and Ranch Family Member
---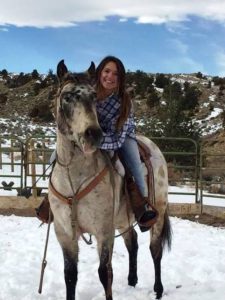 Horseworks Wyoming Worked for Me!
One year ago today, Horseworks Wyoming came into my life. As I celebrate this one year anniversary with this special place, I can't help but reflect on all the great, happy, and even, sometimes, challenging times that occurred over the past 365 days. I never thought what was supposed to be a three week visit on a ranch in Wyoming would turn into the best year of my life. There are so many people that I would like to thank for this experience, but the two people I owe it all to are MaeCile and Nate Brown.
Without MaeCile's confidence in me, I don't think I would ever be moving a herd of horses or cattle on my own, driving tractors or bobcats, teaching people how to ride, taking a stud colt to a reining/cutting clinic, or even believe in myself to do all this. She has given me the confidence that whatever I put my mind to, I can achieve. This is something that I have struggled with all my life. For a year, I was able to watch MaeCile overcome so many challenges, but also celebrate so many successes. I don't think I have met someone that I have bonded so closely with in so long. We have shared so many laughs, tears, and unforgettable moments. I am in awe of her work ethic, and her ability to persevere. However, what I am most impressed with is her ability to work with any horse with such ease and patience. I think MaeCile and I connected so well because we both find comfort in horses and the ease they bring us. MaeCile gave me a home out here in the West, and I will never be able to express how grateful I am in words. I can only say how much I love her and thank her as much as I can.
There is so much I can say about Nate Brown. But first I would like to say he was the grandpa I never had growing up. Every morning, he would welcome me with a "hello beautiful" and that meant more than the world to me. He always knew how to flatter the girls and it brought joy to the whole room. I will never forget the stories and poems he would share at meal times. I will also never forget his amusement as Jess and I would have dance parties in the lodge. He would smile and tap his foot along to the music as we girls made fools of ourselves. The nights he would come out to dinner with us were the best, because you could see how happy he was to be out and about with everyone. On our long car rides to Cody, he would hold my hand and smile as a tried to sing along to the music. I would squeeze his hand and his hand would squeeze back and you could feel the love he had to share. Moments like those I will hold onto forever. On our walks with Nicole, he would zoom off and I tried to keep up with the oxygen tank in hand. Even at 94 years old, he was on the move. Nate has touched so many peoples' hearts like my own, and we all can agree how great of a cowboy he was. He will be so greatly missed, but I know that whenever I am at Horseworks Wyoming he will be there too. I'm sure he'll still be there on the rides, in the lodge at meal times, and be watching us working with his horses that he loved so much.
Horseworks Wyoming may not be glamorous, or the cliché dude ranch experience that everyone may want, but it's real. You face real ranch challenges, you ride real horses that aren't trained to follow head to tail, and you do real hard work. With every challenge though, there is a reward. This reward may be being able to ride a horse that you never thought you could, or it could be finding something in yourself that you never knew. For me, I became a much stronger person with a better understanding for hard work and a deeper appreciation for the small successes.
In the past year, I have become a better rider and horseman, I have extended the list of people who I call family, I made so many life long friends, I fell in love, I became a stronger independent person, I learned what I want out this life and what I don't want, and I love myself more. For future interns, or any person that comes to HorseWorks Wyoming I hope your experience is as great as mine has been. I hope you cherish the time you spend with the horses and MaeCile because you are truly lucky to be there. But most importantly, I hope you leave feeling like you have grown in some way, that you have experienced something unforgettable, and you leave with more love in your heart than what you arrived with.
Hannah Hoffman, April to November 2015, Intern and Ranch Family Member
---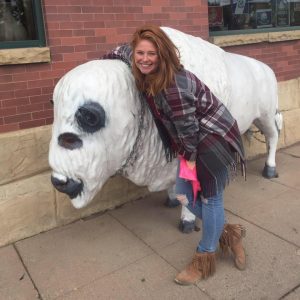 Horseworks was not only a great vacation but a life changing experience. It changed my attitude towards both humans and animals, by increasing my appreciation and love for them both! Horseworks gave me a new work ethic and massive sense of achievement and worth when completing on the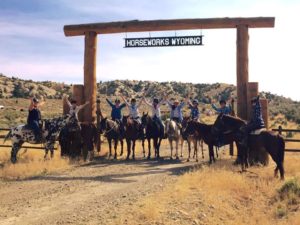 ground ranch tasks! I truly fell in love with this place and miss it everyday! Thank you for having me MaeCile….I will be back very soon.
Rachel Fitzgerald, Intern 2016 and Ranch Family Member
---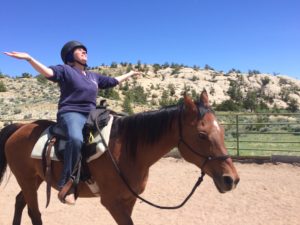 My favorite activities on the ranch were when MaeCile took time to teach me in the ring.  I felt so proud when I accomplished what she  showed me. Riding all the different horses. Seeing their personalities.  Riding Cavalier with the interns and getting the cows to pasture.  Going to Cow Camp overnight.  Exploring the hills and valleys.  Just the riding on your beautiful ranch was breathtaking.  Working with the livestock – I loved it. Spending time feeding horses, calves, chickens, and cows. Spending time with Girly girl (Helena's foal). Seeing how smart animals are and how close you can become with all these animals.  I enjoyed my cabin. Very comfortable and made me feel right at home. The views when I woke up and at night to see the beauty of the land that I do not see at home – it was all breathtaking.
My life take away will be an experience I will never forget.  MaeCile showed me the strength and power I had in me and taught me that I can do it.   What I learnt was that I can do things and not be afraid.  My inner self came to know myself (lol) – thank you, MaeCile.   I learnt so much about horses and animals that I did not know. I came home telling all my friends and family about all the lessons and what I was taught (the right way) about horses.  I was so proud to feed a horse a cookie for the first time. Brushing my horse and putting the blanket on and the saddle — checking the girth 3 xs and a fist for under his bridle's throat latch so it's not so tight.  Putting the reins on. Everyday it became better and easier for me. I would like to thank MaeCile, Paul, Hannah and all the interns that I got to be with.  I will always remember my bucket list dream. For someone not knowing anything about going to a ranch, I came home with the experience of a lifetime to remember. Thank you again – I loved every minute of your ranch.  P.S. Give my Cavalier a cookie. He is the best horse I ever rode in my life. MaeCile, you sure know how to match horses with people. You get a star for giving me Cavalier. I wish I could have stayed longer – I keep thinking of you and your ranch. I loved Cavalier – he was a prize in my eyes – I have been horseback riding here and it is not the same as out there.  I'll be back.
Grace Walker, Intern 2016
---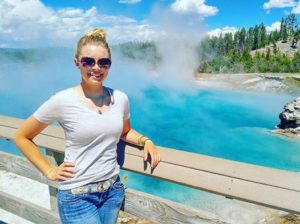 My gift is MaeCile. How she helped me train the horse and gave me tips and tricks on how to do it.  Learning how to train a horse is my big takeaway
.
Ali Hutchinson, Intern 2016 and Ranch Family Member
---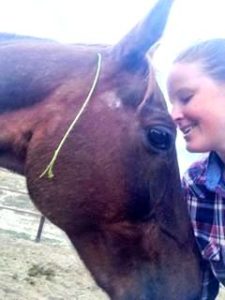 Can you imagine, after all these years of dreaming and thinking, I finally did it, I went to Wyoming to be an Intern at a horse ranch!  Out of all the 19 days I spent there, the last Tuesday and Wednesday were the most amazing!  That's when I got to wrangle horses in full throttle over the beautiful and big landscape here at the ranch.  I swear to you, I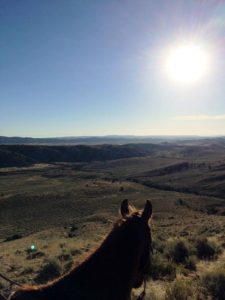 really thought I was flying as I rode that fast trying to get all the other horses to go forward together.  I loved it!  The happiness and adrenaline that ride gave me will last me a lifetime!  This is Joker, my noble steed during these two days.  Good bye Wyoming! Huge thanks to Nate and MaeCile Brown at horseworks wyoming for the best trip of my life!  See you next year!
Emelie Karlsson, Intern 2014, Ranch Family Member 2016, 2015
---
I'm just reflecting on all the time I've spent at the ranch, and I'm just realizing this now. When I first went there, I was pretty quiet, probably even shy. But getting to know so many different groups of guests really taught me how to interact with different people. I often remember learning about the animals, learning about ranching. But one thing I'm just realizing I really learned out there at HorseWorks was how to communicate with different people. And I can see that skill in my job on a daily basis. You really offer a tremendous program!!
Ben Ouyang, Intern and Ranch Family Member* and practicing veterinarian
---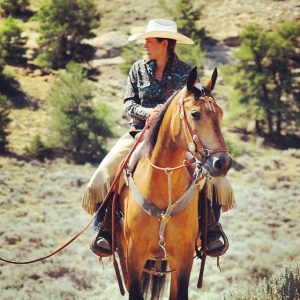 I first went to HorseWorks back in 2010. I went out for their three-week Internship and ended up staying for an extra two weeks to participate in a ranch clinic they had going on. I have been back there every year since then and class it as my home away from home. I spent the entire summer out there last year and brought a horse from them at the beginning of this year. I highly recommend this place. They have changed my life for the better, when I didn't even realize it needed changing for the better. MaeCile and Nate are some of the loveliest people I have met who will do everything in their power to deliver the perfect experience for you.
Jess, UK, Intern 2010, Ranch Family Member*
2015, 2014, 2013, 2012, 2011
---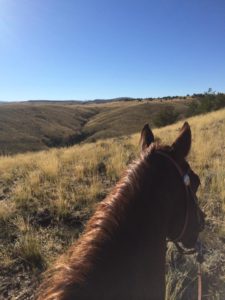 I can honestly say the two summer vacations we spent at Horseworks were two of the best times in the 15 years we had together. Rob held you and Nate in such high regard – we had amazing experiences and memories to treasure forever. I cannot wait to see you in August. XXX
Judy Kay, UK, Ranch Family Member, 2014, 2009
---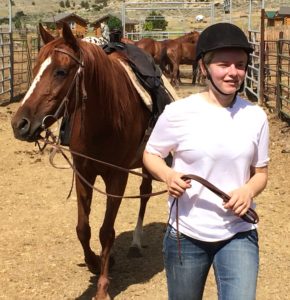 The only thing I can fault 'HorseWorks' for is that I didn't know about it sooner. Had I done so, I feel as though my life would be extremely different, in that I would still be there today and not at university!! Despite the fact that you feel as though you are the star of your own personal western movie blockbuster, amongst all the enjoyment and laughter, Nate and MaeCile manage to take their interns on a journey not only to Wyoming, but into themselves. The perspective that I received during a 3 week stay taught me a lot about the importance of not only self responsibility, but the responsibility of the animals and humans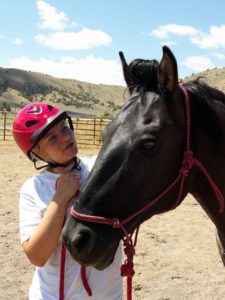 that rely on you, too. Although the experience is not idyllic like the movies show it to be. The experience is raw and real, you see the perks, but also the hardships and work that come with owning and managing a horse ranch, but that is what makes it so rewarding. I will be eagerly returning to HorseWorks as soon as I can, but will not feel like I will be returning to a holiday camp but to a home away from home. In going to 'HorseWorks', I do not feel as though I have merely fulfilled a childhood dream, but have gained a greater understanding of what I want to do in the future!
Bea, UK, Intern and Ranch Family Member 2016, 2014
---
Dear MaeCile and Nate,
Me and Annalisa are very nostalgic already for our unique experience in your ranch and are visiting it regularly in our dreams. It comforts us that Laura is still there with you giving you a much needed help. I cannot express how much we appreciated your presence and all whelming care vis-a-vis me and my friends. I wish you all the best and success with your ranch and we will stay connected with all the means possible.
With a very warm hug,
Maarit Hirvonen, Finland and
Burkina Faso, Intern 2014
---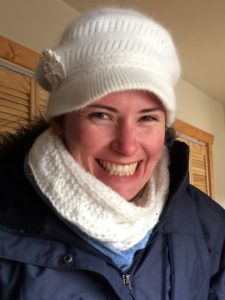 Dear MaeCile, Nate, Laura, Paul and all the Horseworks team.
My time at Horseworks Wyoming was absolutely, unequivocally the best, most amazing horse-related experience, of my entire life.
I have grown up on American horse movies. I used to watch Flicka trilogy every afternoon for years. I'm sure I have seen every American horse movie ever made a billion times. My dream has been to ride in Wyoming for as long as I can remember. Upon marrying the most wonderful man, who said he wanted to make my dreams come true J, we planned a trip to US with a stop in Wyoming.
Based in Australia, planning a big USA trip, in and around different work commitments on both sides on the continent and trying to fit in a lifelong dream of riding in Wyoming is quite a task.
As our work commitments, one in Texas, one in LA being both in the south, my family decided that we would do a road trip between them and we would head North enough to enter the lower section of Wyoming.
Being a little early in the season, Old Man Winter was still lingering and many of the sites were only opening a week or two after my planned travel dates. I was devastated.
I then started contacting Dude Ranches all over the state, time and again, no, no, no.
All these ranches, so many of them, and none could accommodate us. And worse, they were all so 'professionally manned' that they would offer all these wonderful services and suggest I come a week or two later (which of course we couldn't).
What really got me was they hadn't really listened to my situation and objectives. They have these extraordinary outfits – the fancy rooms, services and additional activities, but it seems they'd forgotten their customer service ears. They were worked into a box with their offerings.
Then I got a reply from HorseWorks.
The first line from the email;
Thank you for your email!  It is possible that we can help make your life-long dream to ride in Wyoming come true!
Woowweeeee!!! Who is this Horseworks and can this really be happening, after all these no's?
This was the beginning of a very human and very real exchange. Which was certainly the platform for the whole experience.
I had very specific dates I could travel, and being so early in the season, MaeCile included the wrangler (who was in the UK at the time) in the email communications. They listened to what I wanted from my experience (as much time as possible working with the horses and being in the saddle) and together they worked out an itinerary that was incredible and sent me over the moon with joy.
Coming from overseas, I had questions around helmet hire, travelling with a toddler to and from airport and all those little logistical details you have to sort when you have no idea of how it is done in another country.
They answered everything generously and I never felt like I was being a pain with all the emails we sent. I felt like I was going to visit a long lost family member, one you didn't know very well, but who took the time to make you feel comfortable.
Not a being a "dude ranch" is what sets this place apart! It's not lavish, there is no one there to 'serve you' (although there was always someone in the kitchen cooking up something delicious).
You are welcomed into Nate and MaeCile's home. Their actual home. And you are expected to chip in.
This is what I liked most, as this also carried into the outdoor setting.
There isn't a planned ride at 11am for 35 minutes with canapes afterwards.
There is actual real work to be done! This was bliss!
Being horse mad all your life, without a horse or access to one is hard!
I go on trail rides and have taken lessons, but it's not real. You're just seated atop a saddled horse, with no time to 'meet' the horse or build a connection.
You seem to only learn technical riding skills, but not horsemanship skills which I was craving to learn.
The wranglers present during my stay were Laura and Paul. Wildly different, yet with the most comical banter and respect shown between the two.
Most of my horse experiences in Australia have been facilitated by woman or girls. Certainly for the best part they were pleasant, but not really warm or overly eager to engage with you. Again, just like you are in and out for your ride or lesson and let them get on with their work. Sometimes being short-toned or even bitchy.
I somewhat expected this to be the same for Laura prior to meeting her as with most horse women. Even though her emails were warm, you just assume that women facilitators are going to be 'to the point'.
Laura, who is an amazingly skilled and experienced horse-woman (which takes some time to find our as she is incredibly humble) was so kind and really helped me improve because she listened to what I wanted to learn.
Paul, was totally awesome. Where Laura brought a varied skillset of English style, country and technical skill, Paul brought an old fashioned Western flair. A sense of 'growing up on the land'. He taught me things like always carry a length of twine in your pocket in case a stirrup breaks (which I believe Nate taught him) and so many other type of skills that are innate if you have grown up in that environment. With my intention of owning a "farm" (Australian ranch) someday in the future, these sorts of skills are critical to know.
We brought the horses in from winter pastures and 'worked them' back in. Where possible, the wranglers enabled me to also try this.
I was given a gorgeous mare named Maggie. She was a stunning horse.
Though she certainly wasn't a push-over. She was perfect to ride for my level of experience and didn't do anything unexpected, but her personality challenged me well into learning new things.
Over the days they taught me a huge amount of ground-work skills.
I was able to lunge without ropes and really learn to watch, interpret and anticipate the horse.
My husband who doesn't ride and my son along with my mother stayed also.
They were kind and offered alternate experiences for my husband. And my mum enjoyed riding Frecka.
The 'family' also very kindly accommodated my 2 year old son having a ride. Again, most of the places wouldn't because of the risk, whereas here, they kind of assess your experience and work within your limits. So Paul led beautiful Frecka (who is now the name of every horse my son sees) and my husband held in place in the saddle by walking beside. It wasn't a short around the coral walk either, it was a long, over the hills ride. This enabled me to go out for a ride with my son, another earth moving moment for me.
Upon arriving, if you are unfamiliar with the landscape, the land looks dry and barren. Over the days riding through it I gained such appreciation of just how beautiful it was. I haven't ever seen anything like it. It is stunning.
I was fortunate to have flurries of snow, and warm days whilst I was there. And riding to the top of the mountains around the home, and seeing a view of the snow-capped Rockies was just awe-inspiring.
MaeCile was very busy with all of her life running around, but when we crossed paths her warm, welcoming manner was beautiful. As you are in her home, she welcomes you whole-heartedly. Again, this was what made this experience so personal and satisfying.
MaeCile, Nate and all, as I began with, my time at Horseworks Wyoming was absolutely, unequivocally the best, most amazing horse-related experience, of my entire life.
My stay with you has been a pivotal moment in my life, a very special and intimate experience and I will remember you all, always.
Than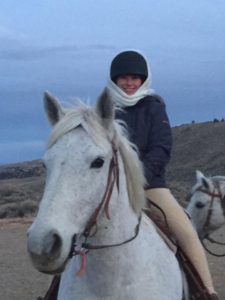 k you for welcoming my family and I into your home and the experience with your horses.
It truly was wonderful.
Most sincerely,
Harmony from Aus
Harmony, Intern Spring 2016
---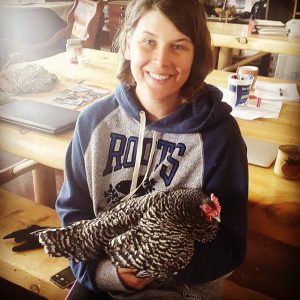 100% I agree with every word of Harmony's. I thought I knew myself before HorseWorks, I was wrong. I had so much to learn about the meaning of happiness and the difference between that and contentment. I thought I knew, but finally understood, there are no problems, only solutions. I thought I was independent, but I didn't truly understand the definition. I believed I could handle anything, but I learned help is always better.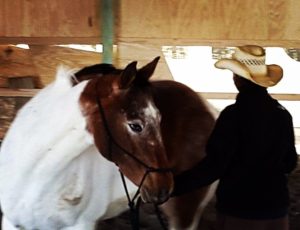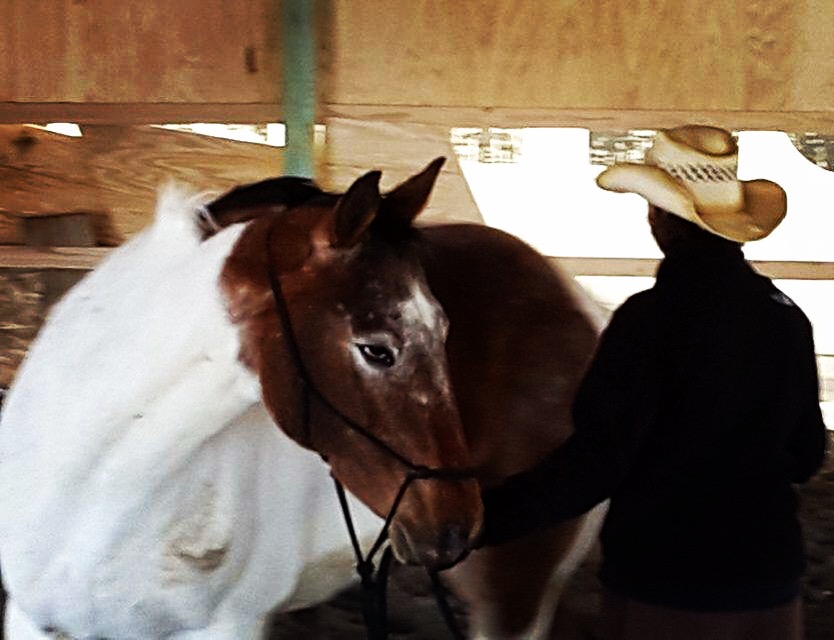 MaeCile and Nate and their horses and animals taught me so much about myself that I am forever grateful. I often post about politics and the news of the day, but when you're out in the middle of the Wyoming range and it's just you and the horse under you, that's real. HorseWorks wasn't easy, but was the most fun I have ever had and easy doesn't make life worth living.  When I applied to HorseWorks, I knew I wanted to escape city life and ride horses.  I didn't realize I'd meet lifelong friends and family and have a transformative experience on my outlook on life. The horses and Wyoming sunsets brought long-sought peace of mind and refocused me on those things in life that are actually important
Christa Johnson, Intern 2016 and Ranch Family Member
---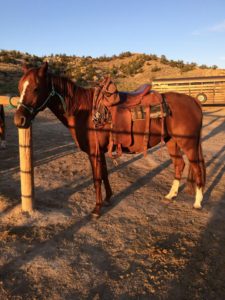 What were the highlights of your trip? :
Everything! Even moving hay bales became fun! Wrangling the horses was amazing and taking the horses from the ranch to Prospect was such a wonderful experience (we moved loose horses whilst on horseback to another place by becoming part of their herd- it was so fast and pushed us all out of our comfort zone and is an unforgettable experience). We had to search for a very young calf at one point also, as it was thought to potentially be in trouble, that is the amazing thing about this trip, you will NEVER be bored (and this is coming from someone with ADHD). It is not just a "horsey" experience though, it makes you re-evaluate your life, your values and your goals, for instance, you'll realise that all the little troubles that we think are so huge, the mole hills that we turn into mountains, are so unimportant in the grand scheme of things. ALL the people here are wonderful also; Nate and MaeCile Brown, the ! staff, the other interns, everyone I met from outside the ranch also, these people are all a HUGE part of what makes this wonderful place so utterly wonderful. Yellowstone National Park was amazing too, I have never seen such beauty in all my life and the scenery was absolutely breath-taking.
Is there anything else you would have liked to have added to your itinerary?:
I would have liked to have spent much more time at Yellowstone National Park, this shall be one of my greatest reasons to return as a single day there was simply not enough.
Tip for other travellers? :
1. Take a very thick sleeping bag, the nights can get very chilly! 2. Don't be disheartened if you're struggling with something, just try your best and you'll get there in the end 🙂 3. Take strong gloves with you, they will come in handy!
Thank you so much Nate, MaeCile and everyone else who made this experience one of the best of my life.
Jasmin Jones, UK, Intern 2014
---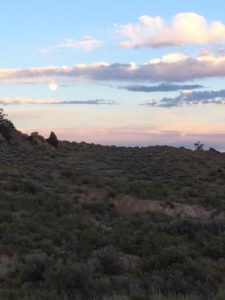 * Ranch Family Members are former Interns who return frequently to the ranch and remain actively involved in the life of the ranch following their Internship.