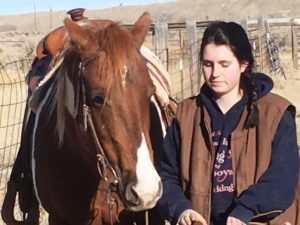 I found the perfect Ranch Internship for Vet Students!
By Rebecca Brady
As a Vet Tech student, my time at HorseWorks is helping me more than I ever thought it would!   I am learning ways that are new to me to handle horses that are new to me, in a different environment compared to my hometown in North Dakota.  There are so many memories I will always hold on to, but the biggest one will be riding through the rough Wyoming terrain with Bella, a big, opinionated mare.  MaeCile is a huge help in educating me about the proper ways to handle any horse I will come across in order to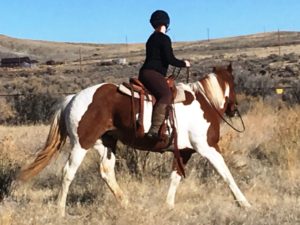 stay safe and minimize risk to me and the horse.   A few days of my one-week stay have felt like a month's worth of knowledge and I will definitely be back in the near future!  For now, I will use what I am learning to become a more confident horse woman and show more competence as a vet tech.
March 11.  My gift today was the progress that I was able to make in getting Bella to stop and take that step back and praise her for it.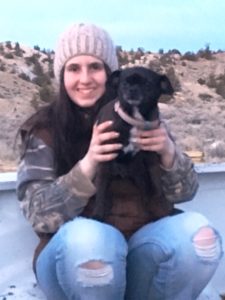 The progress she made, too, with me as a team.  The vocal cues – I've always heard people use them and I kind of used them myself when riding, but I didn't truly understand the deep significance behind them and what each one means.  I like the consistency thing – after today I noticed so many things my family is doing wrong that they should change, that we could change, like changing the way we cinch up so we don't pinch the horse, and rein management in general.  It's almost like I need to go back and do groundwork with my horses all over, start over, clean slate.  I also have to get a pug Chihuahua – one that makes those Gypsy-the-dog noises.  Working with horses is a lot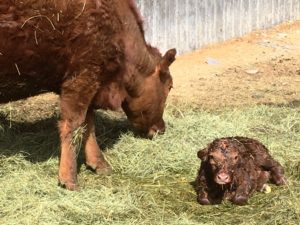 like working with a 1200 pound dog – putting the lead rope behind the ears and having control is what you do with a big dog that's not listening and pulling you and trying to get away and throw your back out – it's a lot of the same stuff.
March 12.  Well, I always come back to this: We are talking about control, don't over-think it.  Respond immediately.  For me, it all comes back to working with dogs.  In my job, I work with dogs and I'll apply what I'm learning here with horses to my work with dogs.    If a dog is going to attack… if a dog is going to fall off the grooming table… you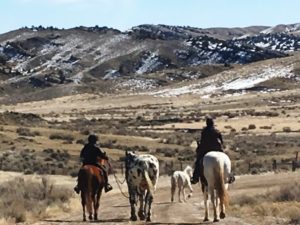 have to respond immediately.   I'm connecting with my horse so I have more control over her.  My gift today was cutting cows – I just want to do it all the time – plain and simple!   I didn't want to stop, I just love it!  I felt like I'm starting to stay on top of Bella, anticipate, work together as a team on my first trail ride of the season in a new environment – the North Ridge Trail.  MaeCile's my gift!  If it weren't for her, I probably would have fallen on my butt by now.  Back at the ranch, I was really, really happy to see the newborn calf running around, coming up to me, I love seeing new life and how happy they can be, they have no idea of the real world, of our life and how rough it can be, they are so happy and innocent.
March 14.  The trail ride yesterday was long and steep and definitely outside what I expected to be in my comfort zone on my third day on the ranch.  The Pack Rat Trail, so named because a packrat used to live in a tree along the trail and would stick it's head out when riders went by.   The challenge of trusting my horse on a challenging trail formed more of a bond between me and Bella.  Sitting on Redbull was crazy!  My other gift today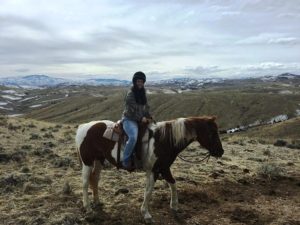 was watching the colts play, run, rear with each other, and kick up!
Wyoming has changed my life and it could be a potential home someday!   I've been making decisions people might think are crazy.   The whole ranching lifestyle has always been something I love, but I had stopped going out to ours for such a long time because I am so busy and it's an hour away from my home. Since I came back from HorseWorks, I have dedicated more time to going to our ranch and practicing the stuff I learned on our horses – a lot of ground work, hindquarter yield, forequarter yield, lots and lots of circles.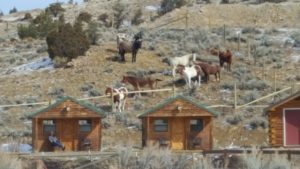 I'm trying to be more gentle on my horse's mouth, so I'm trying to stay away from yanking back.
My week at HorseWorks Wyoming made me realize how big this world is and how many opportunities there are to learn new things.  I feel way more confident in everything I do. I came back home with my head in the game!  I put more effort into things I don't like and I have seen improvement in school and everyday life!
.